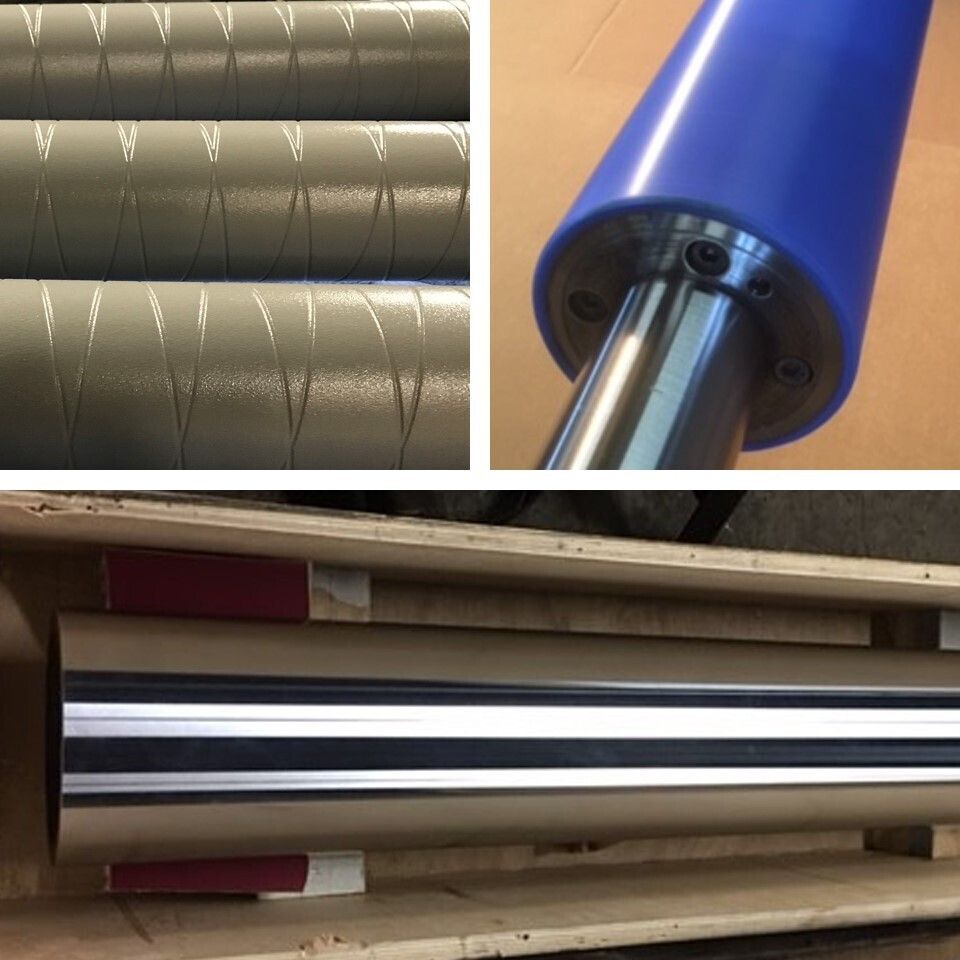 MGF Coating Services
The majority of our Coatings work is for Rollers – of every size, shape and application.
Whether you're in the Printing, Packaging, or Converting Equipment industry, having the proper coatings on your rollers and other equipment parts is vital. We offer all types of coatings to help protect your machinery and extend the life of expensive and vital parts.
We also work with the Food processing, film, ink, paper, plastic, rubber, metals, specialty metals, steel and wind energy industries. Chrome roller repairs are very popular requests at MGF Services.
Common Projects Include:
• Shafts
• Idler Rollers
• Spreader Rollers
• Squeeze Rollers
• Wrinkle Eliminating Rollers
• Anilox Rollers
• Ink Fountain Rollers
• Water Transfer Rollers
• Knurled Rollers
• Ink Vibrators Rollers
• Draw Rollers
• Jaw Blades
For Flexo Packaging/Converting:
• Accumulator Rollers
• Actuator Shafts
• Adhesive Pans
• Air Shafts
• Back Up Rollers
• Pull Rollers
• Calendar Rollers
CASE STUDY |

Successful Prototype Project:


Embossed Chill Roller - Textured Random Pattern Coating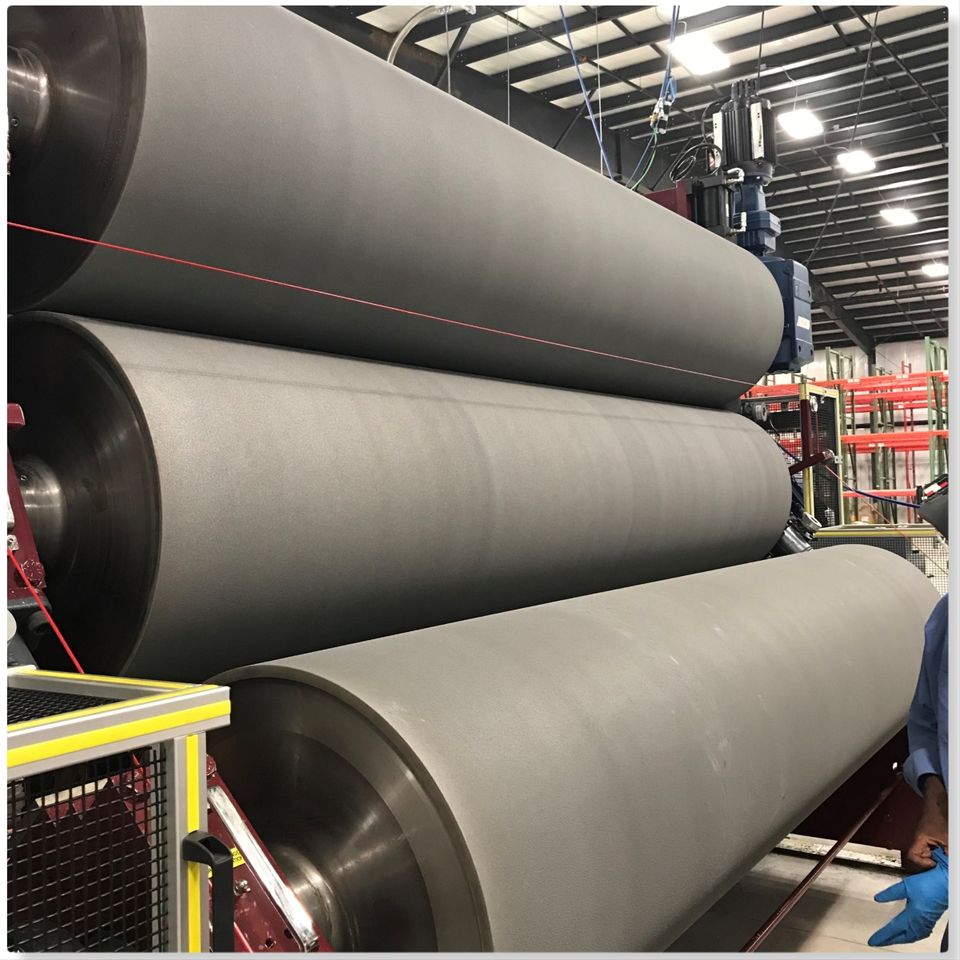 Our customer wanted to have an alternative surface option that would create a similar pattern to that which is produced by an engraving process. The following are the steps we took for a successful outcome:
The MGF Services team started out with the customer's engraved pattern sample.

We matched the engraved sample with coatings to produce a strikingly similar pattern. 

Model lab rolls were created for pretesting the random pattern coating to gain client approval.

We worked closely with the OEM for our coating preparation for the fabrication of the chill rollers.

Completed (3) 30" Diameter Chill Rolls x 132" with our random textured coating.  
This project was a huge success. The customer was very pleased with the pattern and the cost savings. The 30" Chill Rolls have been running since 2018 and working as expected. This is one of many projects where MGF Services has made an impact on the packaging and converting industries.
CASE STUDY |

Successful Prototype Project


Reconditioned Anvil Rollers for Food Packaging Industry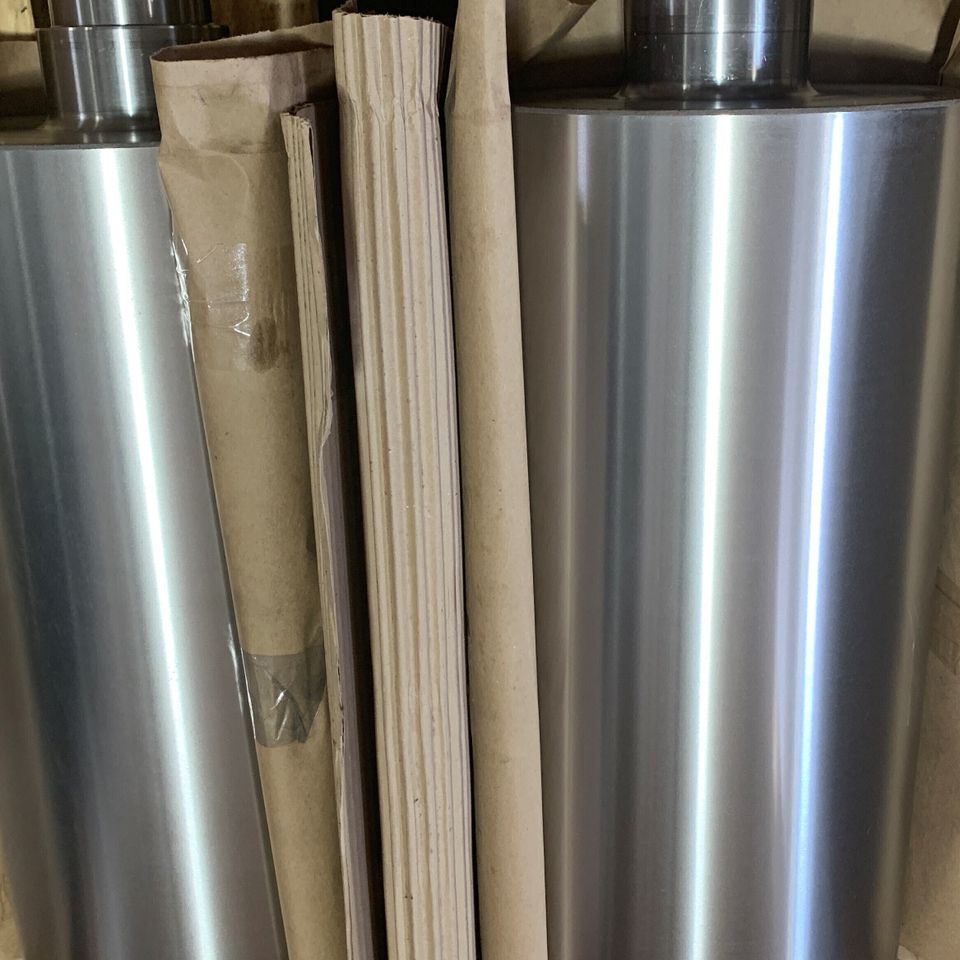 Pictured here are Anvil Rolls that have direct contact with diamond perf rollers. Over time, they create a perforated pattern that is transferred to the anvils, which causes a problem in the substrate.
MGF Services provided a coating that enhanced the original surface to extend the life of the Anvil and saved the customer from having to make a huge investment by buying new.
MGF Services's coatings have provided multiple solutions to similar projects with big cost savings.
Chrome Applications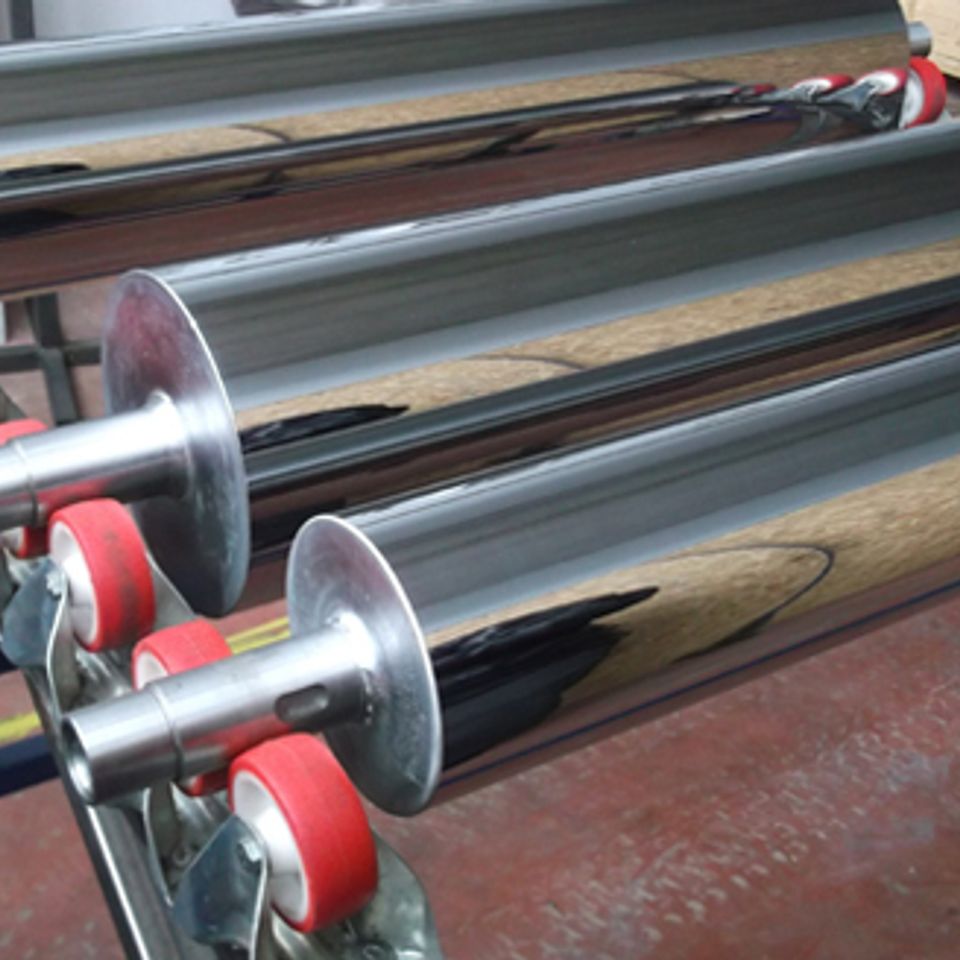 Printing: Rolls, Former Boards and Knives
Packaging & Converting: Cylinders with Mirror Finish
• Hard Chrome Plating
This typically applies to parts with heavy wear, that need their dimension(s) brought back to OEM specifications. Chrome build-up is very beneficial on parts that are exposed to the toughest of conditions, due to chrome's durability.

• Superfinishing Cylindrical
Also known as micro finishing, this metal working process improves surface finish and work piece geometry and produces a mirror finish. MGF's polish and superfinishing capabilities and equipment enables us to achieve finishes to 0.25 micro inches on the Ra scale. We have experience in the following applications:
Plastic laminating rollers

Sheet die 

Water Metering Rolls 

Feed Rolls

Calendar Rolls 

Cooling Drums
• Flash Chrome
This is a very thin layer of chrome consisting of deposits with a thickness of 0.00005" to 0.0001". It's ideal for applications needing a light wear and corrosion protections, reduced coefficient of frictions, improved release properties, along with tight tolerances where post plating processes are not practical. Specifically:
Inserts

Cavity blocks

Core pins

Injection mold components

Extrusion molds

Crimpers

Rollers
• Chrome Croydon


This finish is achieved by sandblasting the area to a specific RA. We then chrome plate the part to required thickness. Many of these parts are used for gripping purposes with enhanced wear and when corrosion resistance is needed.



:: SPECIFICATIONS ::

Hardness
MGF G-Chrome is super hard, 72rc as deposited. Only the diamond is harder than chromium. MGF G-Chrome's high hardness value makes it abrasion and corrosion resistant. It is essential that MGF G-Chrome be applied to a base metal which is hard enough to give it the necessary support.

Coefficient of Friction
MGF's G-Chrome has the lowest coefficient of friction of any structural metal. Its low coefficient of friction means less drag and therefore, less heat is generated as the parts rub together.

Corrosion Resistance
MGF's G-Chrome resists attack by most organic and inorganic compounds (except sulfuric acids), to gain the greatest advantage of this property. Our Chrome deposited surfaces will be continuous and free from pin holes and other imperfections. Surfaces with good corrosion resistant properties will exhibit less chemical attack with no generation of metallic oxidation products which become abrasive particles damaging the base metal.

Adhesion
When properly electro deposited, G-Chrome has positive adhesion to all base metals and mold alloys. The adhesion of G-Chrome is achieved by a molecular bond. Bond strengths have been measured as high as 64,000 psi on some ferrous metals. G-Chrome will not chip, crack, or peel when applied to base metals with a deposit of less than .0005 .
Electroless Nickel Plating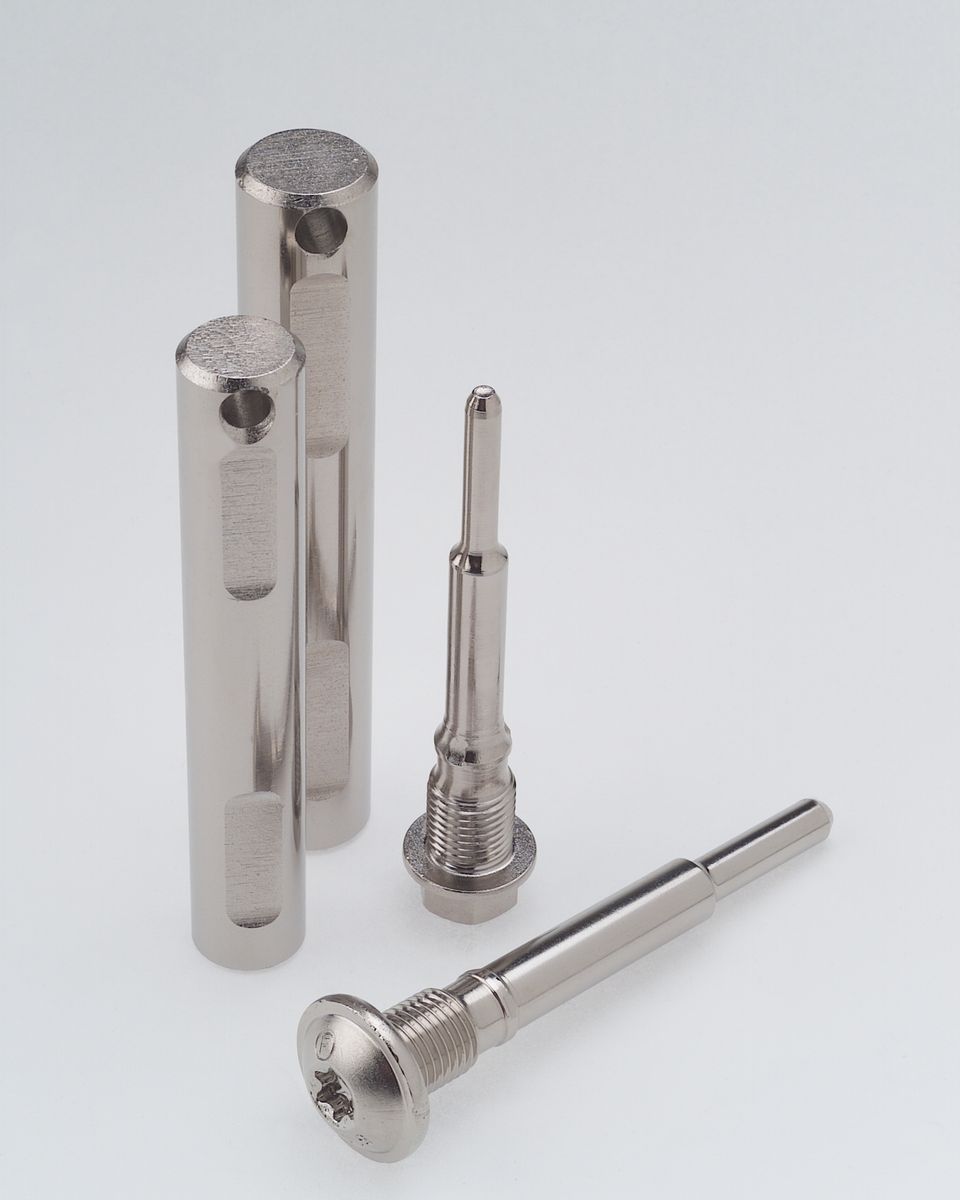 Electroless plating involves the production of coatings from solutions of metal ions without the use of an external source of electrical energy. It is the most extensively used electroless coating within the manufacturing industry and the most prevalent for engineering purposes.
Advantages of Electroless Nickel Plating
Excellent corrosion resistance

Excellent wear and abrasion resistance

Good ductility, lubricity and electrical properties

High hardness, especially when heat-treated

Good solderability

Even and uniform thickness even down deep bores and recesses, and at corners and edges

The coating can be applied as the final production operation and can meet stringent dimensional tolerances

Can be used on both metallic and non-metallic substrates, provided they have been suitably pre-treated
Industries that Extensively Use Electroless Nickel Plating
Automotive: Cylinders, gears, shock absorbers, brake pistons, heat sinks, etc.
Aviation and Aerospace: Components for rockets and satellites, valves, rams pistons, etc.
Chemical Processing: Mixing blades, filter units, heat exchangers, pump housings, impellers, etc.
Petroleum and Gas: Plugs, gates, balls and other valve components, pipe fittings, barrels, pumps, packers, etc.
Plastic Manufacturing: Injection molds and dies, low and blow molding for plastics components, rollers, extruders, etc.
Textiles: Machine parts, threaded guides, spinnerets, printing cylinders, etc.
Food and Pharmaceuticals: Food molds, food processing machinery components, capsule machinery dies, etc.
Plasma Coatings & Treatments
We offer a variety of coatings to salvage worn parts, mis-machined and new components. This restores the life of critical parts, and surfaces are enhanced to improve performance. Industries served include: printing, packaging, food, pharmaceutical and mechanical engineering.





Capacity for Coatings:




Outside Diameter: 72" x 240"




Internal Diameter: 5" x 40"



Traction Coating


Applications: winder drum, reel drums, re-reelers, felt rolls, segmented slitter guides, sheeter draw rolls



Corrosion Resistant Coating (Corrosion/Mirror Finish)


• Tungsten Carbide/cobalt/chrome Coating-HVOF




• Applications: Suction Press and Sym Rolls in paper mills. Ideal for super-calendaring, cast film extrusion

.

High Release Coating


Applications: Idler Rolls and components used in adhesives, hot plastics and other tack material

.

Metallic Coating (Sealed Aluminum coating)


• Aluminum/epoxy coating provides dual protection against corrosion.




• Applications: Fly Rolls, in the Supercalendar section.




• Coating thickness: .006/.010




• Max. service Temp: 250 degrees




• Surface Finish: 100-200 Ra



Ceramic Coating


Ceramic characteristics make them a superior choice over carbon hardened or stainless steel, copper and chrome processes, which are subject to high-surface wear. Ceramic dampening rollers provide outstanding performance and require less maintenance than chrome rolls because of their unique ability to resist abrasion and corrosion while maintaining a consistent surface finish across and around the entire roll.

Ceramic can be impregnated with other materials such as Teflon ® for use as easy-cleaning or traction-control idlers, depending on the surface specified (smooth or rough).
Rubber Applications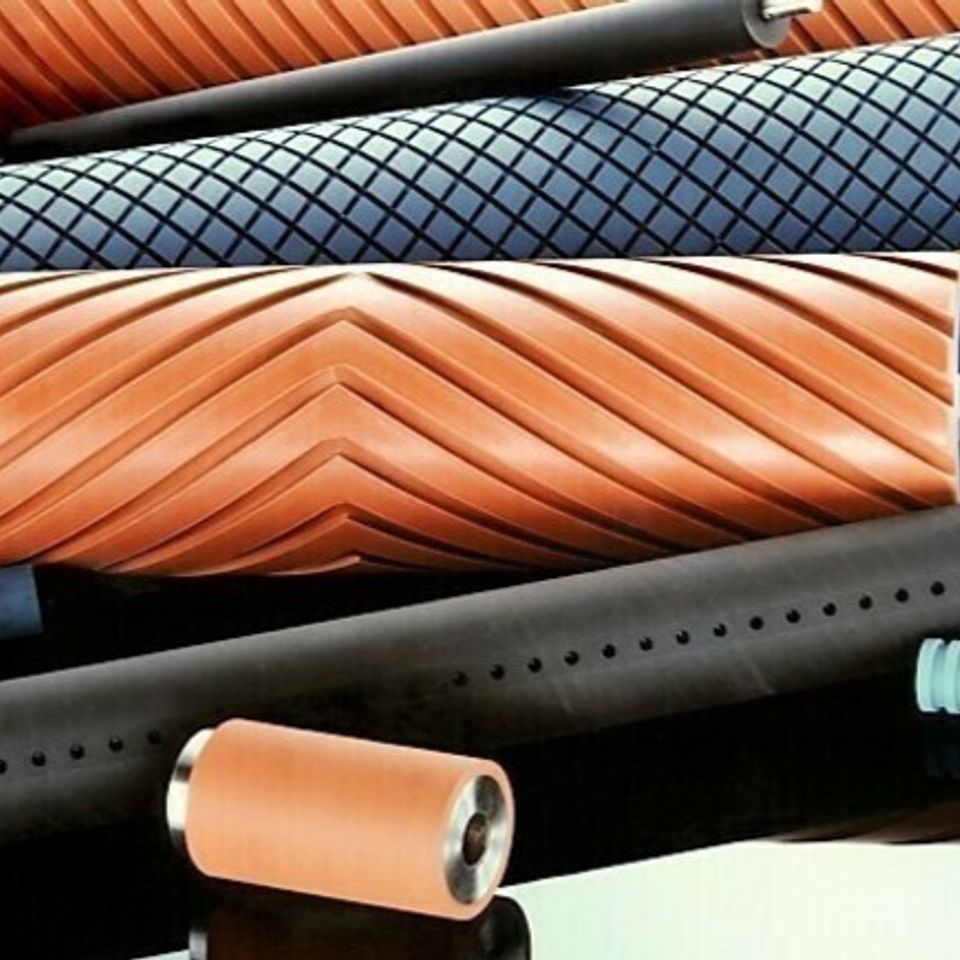 MGF Services provides a turn-key product: Newly produced or recovering your old core, grinding, grooved patterns with precision and custom made to your specifications.
• Flexible packaging
• Printing
• Newspaper
• Textiles
• Corrugated
• Metal Decorating
We also work with the food processing, film, ink, paper, plastic, rubber, metals, specialty metals, steel and wind energy industries.
Rilsan/Nylon Coatings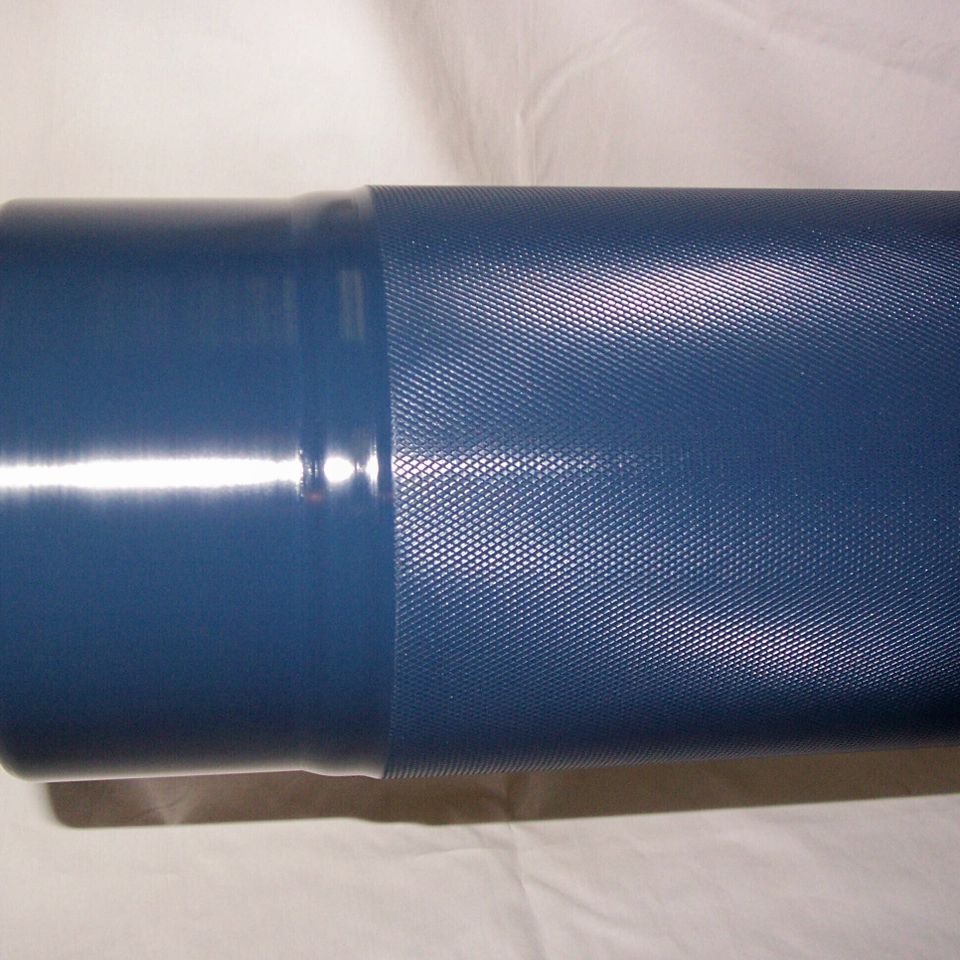 Printing: Rollers Textiles. Pharmaceuticals & Food: Rollers.

The quality of printing matter depends very much on the right distribution and transport of printing ink. The quality of the covering on the printing rollers is a very important factor that should not be underestimated. Like many manufacturers of printing presses, we recommend Rilsan because it has excellent resistance to the chemical influences of printing ink. The absorption of water and ink is very low and the surface is very smooth and durable.

Rilsan replaces copper, or ebonite in ink vibrator rider positions in lithographic and letterpress systems. Knurl ink metering roller replaces steel or copper in a ductorless ink system.

Roller Industry
• Exceptional resistance to wear for longer service life
• Hardness designed for uniform pressure
• Smooth surface finish and low friction which leads to easy cleaning
• High resistance to inks and solvents
• Machining suitability and dimensional stability
• Cores are electro-cleaned and rinsed
• Preheating and prime bonding agent seal core
• Machine-finished ends provide material overlap on radius
• Journals polished and coated
• Wrap finished surfaces with poly-liner paper
• Protective wrap with corrugated paper
New Coatings for Old Parts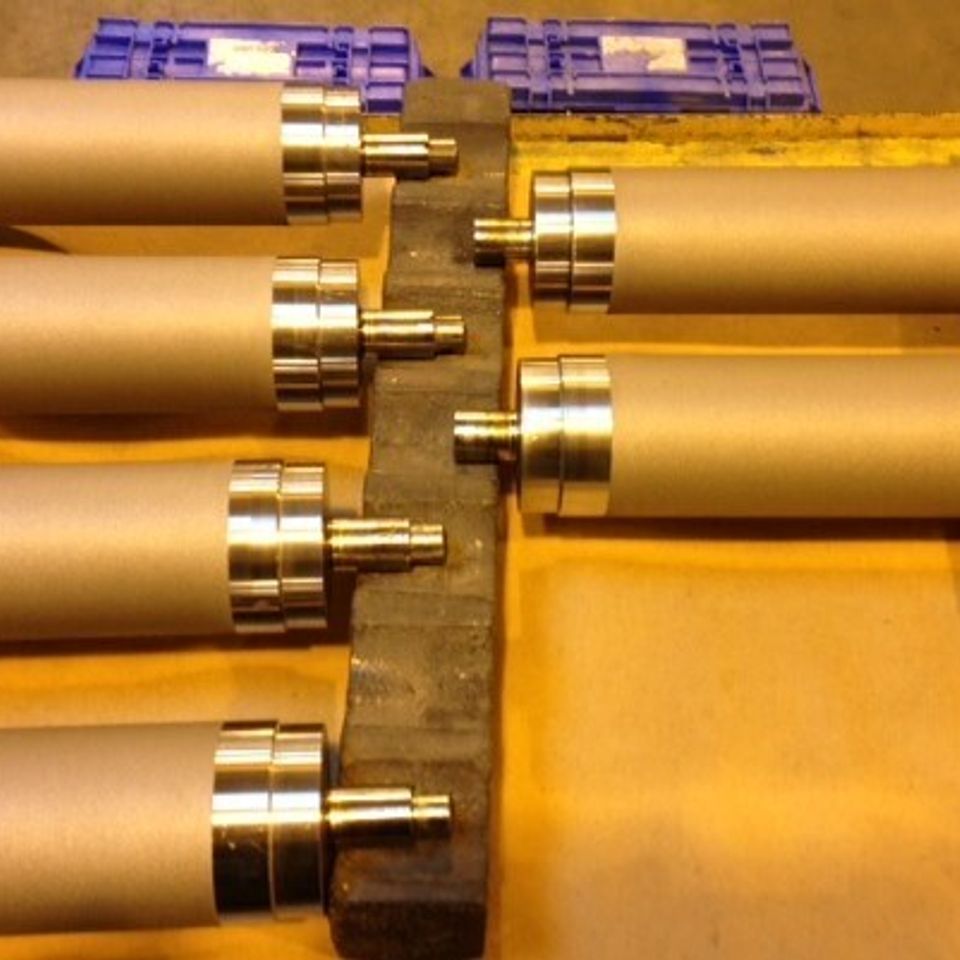 Proper coatings protect your machinery and extend the life of expensive parts, making it a very smart investment for any shop.
These coatings include:
• Carbide
• Ceramic
• Corrosion Resistant
• High Release
• Fluoropolymer
• Metallic
• Traction
We Have a Wide Range of Services
Whether it's

repaired, manufactured / fabricated, coated

or purchased, you can explore all of our service areas below.